Recently, the society by bus of the branch, China Council for the Promotion of International Trade Beijing branch joint undertaking, the Ministry of Transport research institute, in collaboration with the department of transportation highway research institute of the "2020 Beijing international road transport, urban public transport, tourism passenger vehicles and parts exhibition" held in China international exhibition center (new) smoothly.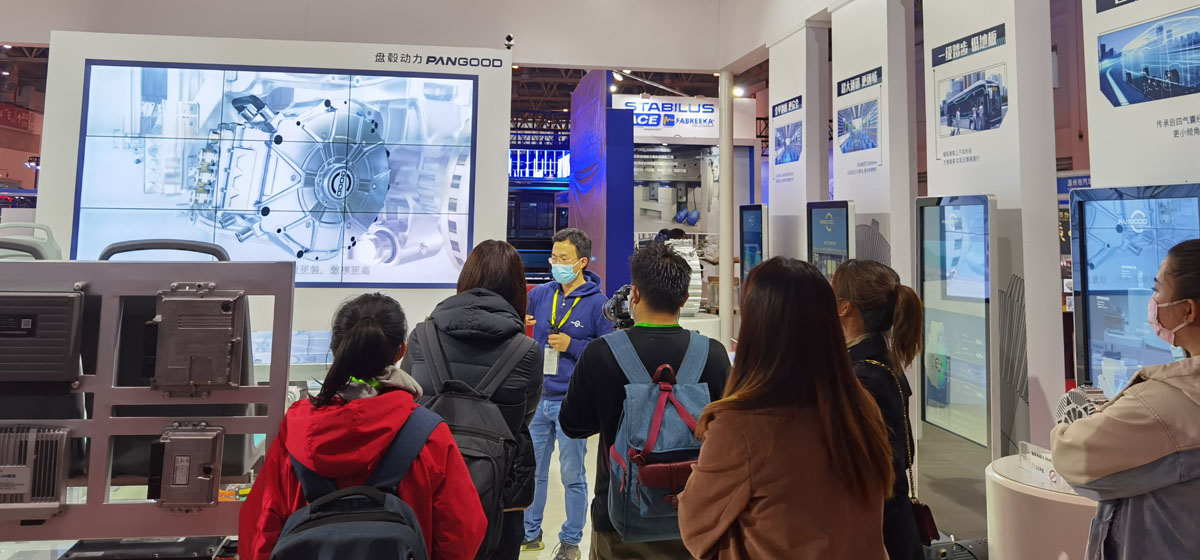 Electric drive system "technology promoter" PanGood Power first appeared in the road transport vehicle exhibition, demonstrated to the industry the technology leading wheel-side drive system, and won the "new energy bus parts innovative products" award. During the exhibition, Peng Liang, head of the technology department of PanGood Power, accepted an interview of Chinabuses work influencing China bus industry user satisfaction survey group, analyzed the technical advantages of PanGood Power wheel edge motor system to the industry, and talked openly about the beautiful travel times of low-floor buses.
PanGood Innovative Technologies
PanGood Power develops an electric drive assembly composed of a new type of axial magnetic field motor, a vehicle drive controller and a chassis suspension system, providing a smaller, lighter and high efficiency electric drive system for new energy vehicles. PDS240kW four-airbag independent suspension wheel-side drive system is a drive system product contributed by PanGood Power to the public transportation field. This system has applied for 303 patents of various types, and core authorized patents such as Chinese invention patent ZL201811008356.4, etc.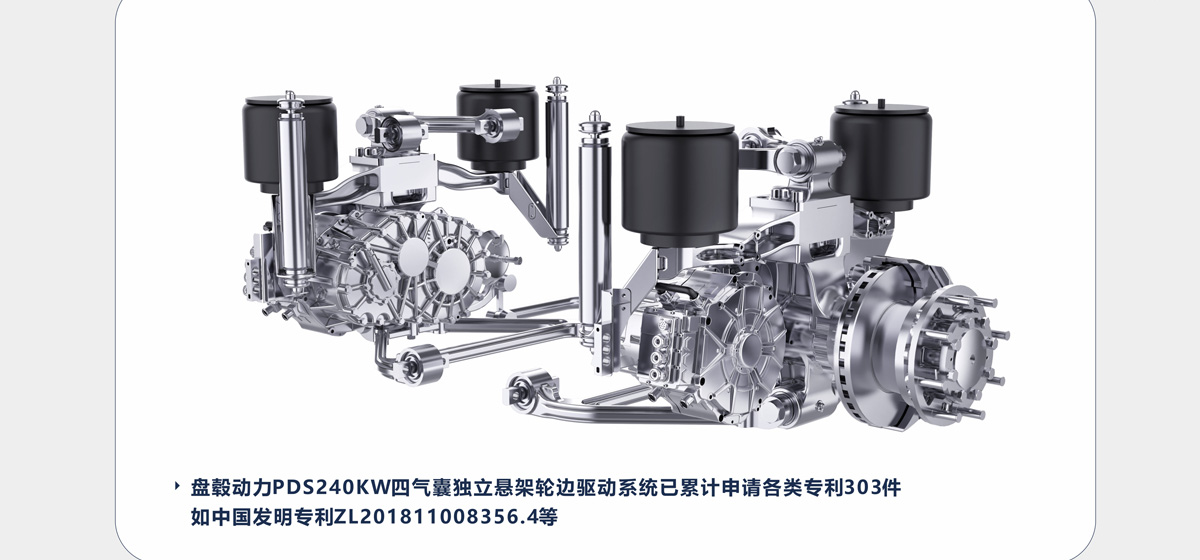 PanGood four-airbag wheel-side independent suepension drive system
Peng Liang told Chinabuses, PanGood Power motor system's technology advantage is obvious leading, PDS240kW round edge driving system is light and small, which makes a vehicle layout more reasonable, such as the implementation step embarkation, the flat floor, channel advantages are more obvious, rear axle channel width of 850 mm, than the traditional drive system weight 700-800 kg, car space layout more reasonable at the same time, the vehicle energy consumption is reduced. Data shows that compared to the same level of traditional new energy vehicles, energy consumption is reduced by more than 20 percent.
"The core technology is the axial magnetic field motor, which has higher power density and torque density. Compared with similar products, it achieves 40% weight optimization and 50% volume optimization, achieving shorter axial size and lighter weight effect." Peng Liang said that the breakthrough of PanGood in distributed drive is not only a motor problem, electronic differential is another problem, PanGood Power specialized control strategy team to develop electronic differential software and hardware products, through the tire slip and wear slip detection and intelligent control, distribution of the torque of the two drive wheels. Through docking and debugging with each main engine plant, the effect of starting and emergency braking on wet road surface is better than that of ordinary straight driving vehicles.
Best-selling domestic new energy bus market
"This system has been widely used on 8-meter, 10-meter and 12-meter new energy buses. The brand covers KingLong bus, Golden Dragon bus, Suzhou KingLong, Sunlong bus, Shenwo Bus, Vientiane bus and so on. At present, batch orders have been formed and the vehicles have been operated in many places." Peng Liang revealed that, at present, PanGood Power and vehicle enterprises such as Zhongtong Bus cooperation, research and development of a prototype vehicle is being tested, I believe that soon will also form a batch of orders.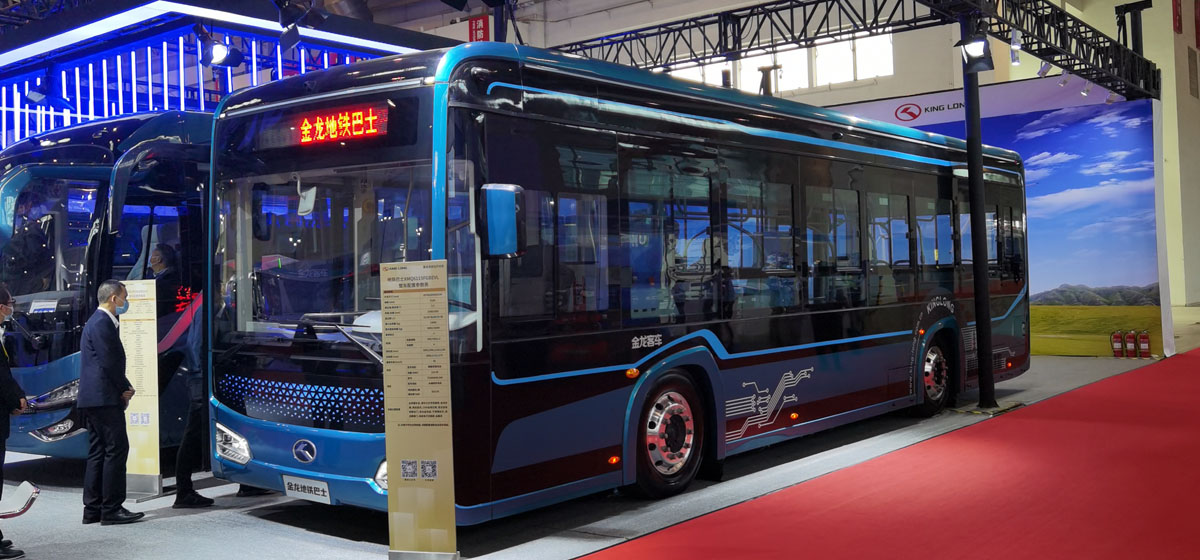 KingLong BMT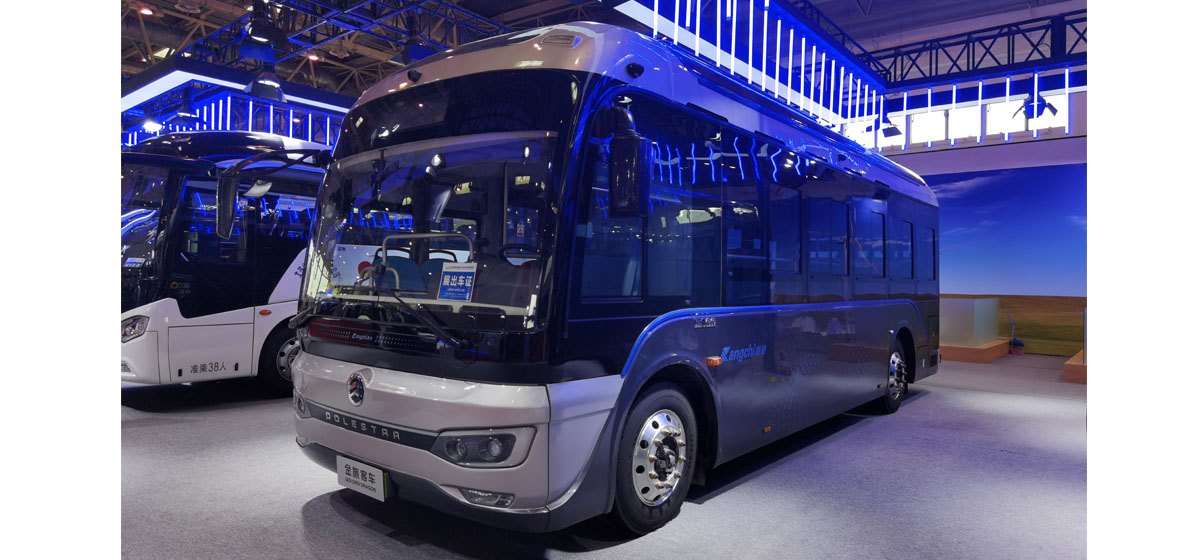 Golden Dragon BMT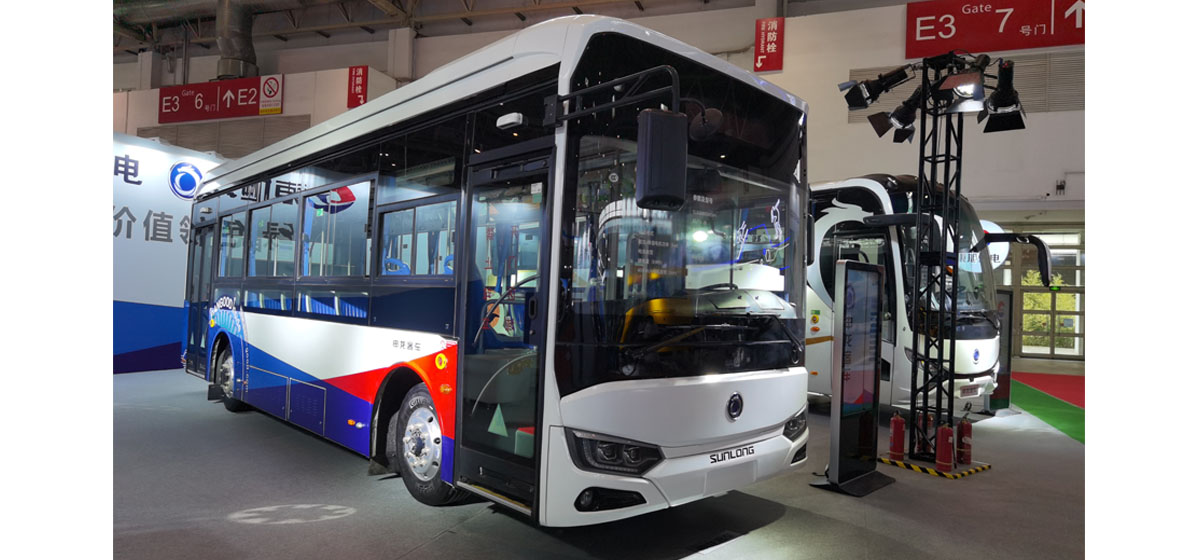 Sunlong BMT
According to Chinabuses, the exhibition site carrying a number of PanGood Power system "BMT" debut. The "BMT" of King-Long adopts the wheel-side drive system of independent suspension with four airbags with PanGood, and eliminates the vehicle transmission shaft, rear axle and other Settings. Instead, it adopts the layout of all flat cars with low floor and large passageway, making the interior space extremely open. Golden Dragon Polestar bus adopts PanGood Power drive system, middle and rear door opening structure, internal floor, neat layout, open space; Sunlong 8-meter BMT adopts the interior structure of two steps, which weakens the wheel cover part and makes the interior space more flat and open.
PanGood drive system has been widely used in many places, and has been well received by bus users and local citizens." "Mr. Peng said.
In Jinhua city, as the "public mind" project of Jinhua public Transport, a batch of new energy BMT equipped with PanGood Power wheel side drive system have been launched. The BMT provides Jinhua citizens, especially the disabled, the elderly, the sick, the pregnant and other vulnerable groups, with a safer, more convenient and more comfortable riding experience. This measure has brought many citizens to thumb up.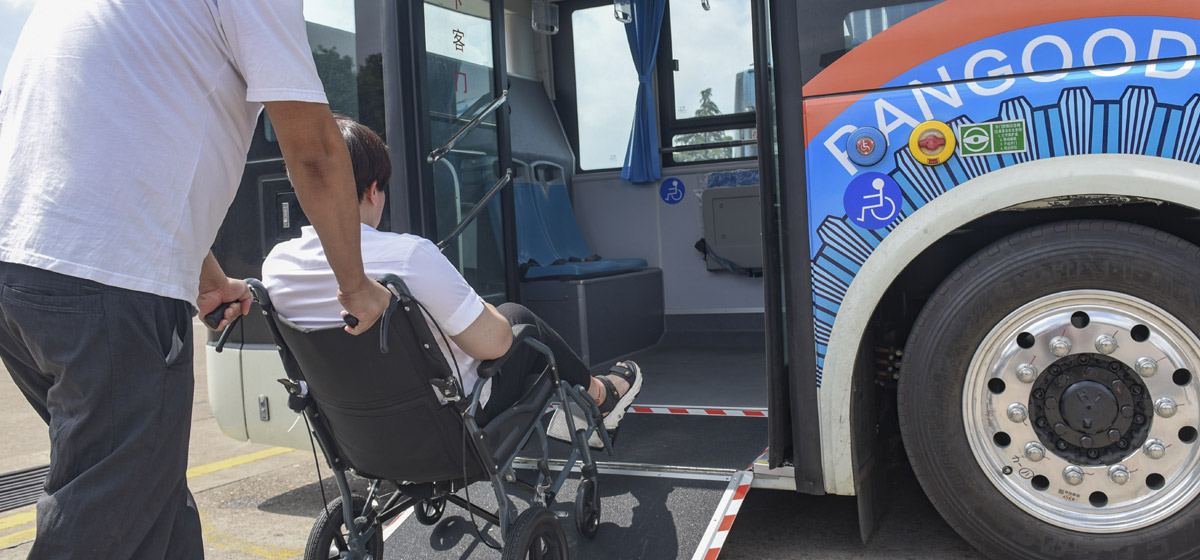 In Fuzhou, 27 new energy low-floor buses -- "BMT" have been delivered and put into operation. The driving system also comes from PanGood Power, which marks another step forward on the road of kangchi new buses' exploration of creating new samples of buses and transforming and upgrading. The person in charge of Kangchi new bus said that realizing the active transformation and upgrading of products and services and providing passengers with safe, convenient and comfortable bus experience is the key to the transformation and upgrading of public transport.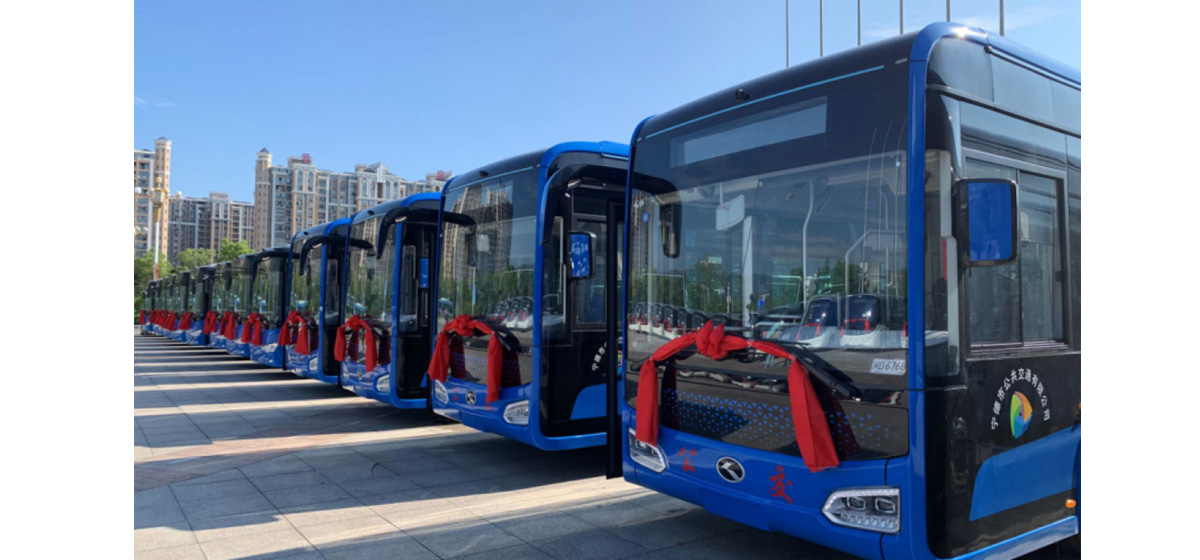 In Ningde city, a new batch of pure electric buses has been put into operation, including high-tech PanGood Power BMT. The BMT with low floor, large passageway and flat floor not only have high appearance, but also run smoothly and noiseless, bringing more friendly travel experience to the public.
low-floor bus's spring coming
"Low-floor buses have long been developed and applied in Europe, The United States, Japan and other developed countries. Low-floor or low-entrance buses are an important way to improve the transport efficiency of the public transport system and the safety of getting on and off the bus. For example, it is more convenient and safer for the elderly to get on and off the bus, and more convenient for passengers with strollers to get on and off the bus." Peng Liang introduces, around 2000, Japan took the lead to launch the low floor bus of class one step, in Europe and The United States and other developed countries also launched the low floor bus of different technical routes, but because of technical limitations, there has been no revolutionary breakthrough.
PanGood Power takes axial magnetic field motor as the technology research and development route, after a long period of painstaking research, has overcome a series of problems such as material, heat dissipation, mass production, etc." According to Peng Liang, PanGood Power takes passengers as its first customer, and uses its new electric drive technology to build a new public transport ecology leading Europe and America, so as to fully meet the travel needs of low floor, large passageway and whole flat floor.
Bus low floor is the trend of mainstream companies have corresponding models, from the point of industry data, at present the low floor bus is from the original 10 meters above models to more than 8 m vehicles, more automobile enterprise future certainly will launch more distinctive models, provide more high-quality public travel service for the masses.
PanGood Power is relying on the core technology to promote the arrival of a better era of low-floor bus travel. "Since the passenger car market and end customers need such a low-floor bus product, the spring of low-floor buses will surely come." Peng Liang is full of confidence.